Displays at this Location
Kentucky Speedway Demographics
Population
2.1 Million people live within 50 mile radius
5 Million within 100 miles
6.8 Million within 300 miles
Transporation
Supported by well-developed infrastructure, including two international airports and major interstate systems.
Seating
Grandstand = 61,281
Tower = 4,708
TOTAL SEATING = 65,989
Racing Statistics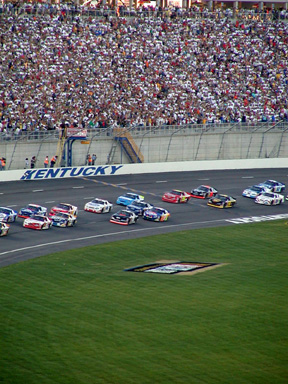 Auto Racing's growing popularity means more potential customersfor you business. More people want to know about racing than ever before.
Auto Racing has experienced unprecedented growth. According to NASCAR Research, attendance is up 65% and retail merchandise sales is up 1000% since 1990.
No other sport generates the outstanding sponsor/brand loyalty than auto racing does. Racing fans stick be their sport and its sponsors five times more than other sports fans (NASCAR Now Magazine). This brand loyalty creates a great return on your advertising investment.
Demographics of the Auto Racing Fan
Although the racing fan has been traditionally male, the market is evolving to bring more women into the auto racing than ever before. Statistics as of 1997 were 62% male 38% female.
The racing fan base is also evolving toward a more upscale, younger audience. 54% racing fans come from the ages of 25-44. Research also shows that those fans earning an income of $50,000+ are increasing while those earning lower incomes on the decrease (Neilson Media Research/ ESPN Chilton)